5 Effective Physiotherapy Treatments for Neck Pain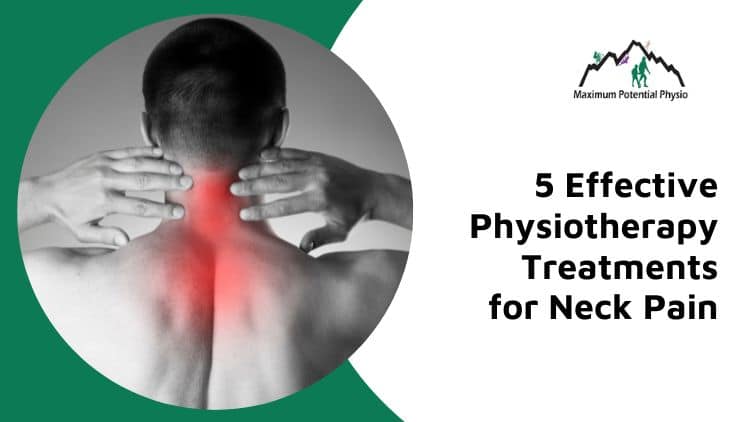 Neck pain is one of the most typical types of discomfort that people experience. According to the Arthritis Foundation, almost 70 percent of individuals will certainly experience neck pain eventually in their lifetime. Whether you're a white-collar worker that spends several hours a day hunched over a work desk or an athlete that often stresses stretched muscles from playing outdoors, anyone can be vulnerable to developing neck discomfort periodically.
However, with the help of a physiotherapist, you can get rid of your neck discomfort once and for all. With a lot of different sorts of physical rehabilitation treatments for neck pain offered, it is necessary to recognize which treatments are suitable for your certain condition. A custom treatment plan can help you with your neck pain caused by various underlying causes such as spinal cord injuries, common sports injuries, motor vehicle accident injuries, poor posture, joint pain, soft tissue problems, muscle tension, neck muscle stiffness, and arthritis pain, etc.
Below we've described the five most effective ways to get the most out of your physiotherapy session.
Initially, Ask Questions
Before you settle in for your treatment session, there are a couple of concerns you must ask your physiotherapist to aid you to get the most out of your session. Ask about the therapy strategy you'll be obtaining, as well as about the timeframe that you'll be expected to proceed with the treatments.
Furthermore, be sure to inquire about any adverse effects that can happen from the various treatments, along with what to do if there are any type of issues. By asking these questions in advance, you can stay clear of any kind of misunderstandings or surprises in the future as well as make sure that you're obtaining the very best therapy possible.
It's additionally a great idea to know what to anticipate during your therapy. If you're obtaining muscle manipulation or massage therapy, for instance, you must know the quantity of pressure that your physiotherapist is most likely to use. Generally talking, you should feel some stress during your treatment, but it shouldn't be excruciatingly painful.
How Stretch Workouts Can Be An Effective Treatment Plan?
There are many different types of physical therapy techniques for neck pain relief, and among the most effective are stretching workouts. This kind of physiotherapy exercises aids to enhance your muscle mass while additionally boosting your versatility and also total stance.
While it's not a treatment that can be done simply as soon, extending exercises are developed to be a long-lasting option for your neck discomfort. You can perform these exercises at home, or your physiotherapist can advise specific workouts that you can do while you go to work or on the go. If you're dealing with neck pain as a result of a bad stance, extending exercises can assist correct your stance while also enhancing your overall health as well as health. By carrying out these workouts consistently, you can prevent future spells of neck discomfort and additionally improve your lifestyle.
Go With A Therapeutic Massage Therapy
Additional effective therapy for neck discomfort is a physical rehabilitation massage. Great massage therapy will certainly assist relieve any kind of stress that you may have in your neck and also shoulders, as well as can also aid to enhance your blood flow. Massage therapy can be efficient if you've suffered neck discomfort for an extensive period.
Massages can additionally be specifically valuable for dealing with shoulder discomfort. If you feel pain in your shoulder when you're curved over at the desk or if you experience shoulder discomfort while playing sporting activities, a massage can assist eliminate that discomfort and also make you feel less limited in your everyday tasks.
Warm OR Cold Compression
While ice and also heat treatment can be useful for a broad range of injuries, they are especially valuable for treating neck pain. Relying on the cause of your pain, your physiotherapist may advise that you use either a warm or cold compress.
For instance, if your pain is triggered by muscle tightness or inflammation, making use of an ice pack may be recommended. But, if your discomfort is brought on by a pinched nerve, a heat pack may be recommended, given that warm can assist to relax your muscle mass and reduce any type of swelling in the location.
Some individuals with chronic discomfort say that alternating between warm and cold treatment at different periods aids to keep their pain from escalating. It's important to talk to your physiotherapist concerning the benefits of each kind of therapy and also when to utilize each one most properly.
Attempt Ultrasounds or TENS Treatment
If you've been suffering from persistent pain for a prolonged period, your physiotherapist may recommend that you attempt TENS therapy. This sort of treatment uses electrodes to send out low-voltage electric currents to your muscles, which can help to unwind them. Depending upon your certain pain and where it lies, your physiotherapist may insert the electrodes on your back or your neck. While this treatment can be rather helpful, they're commonly used as a last option if various other types of therapy have stopped working to provide any kind of alleviation. By utilizing these treatments over a long time duration, you can help to avoid future pain in your neck and also enhance your overall health and wellness and wellness.
Acupuncture and Acupressure
As you're handling chronic pain, acupuncture, as well as acupressure, can help in reducing stress in your muscles and boost your blood flow. While acupuncture is a lot more frequently used for persistent pain, acupressure is usually used for even more momentary pain. Nevertheless, acupuncture and also acupressure are available therapies for all kinds of pain and consequently might not give the alleviation that you're seeking. Before trying these treatments, your physiotherapist must identify what kind of neck discomfort you have, to ensure that you can discover one of the most suitable treatments together.
Conclusion
Neck pain can be devastating, yet fortunately, there are various sorts of physical rehabilitation therapies available that can eliminate your pain and improve your range of motion.
By speaking with a physiotherapist and also discussing your discomfort, they can advise a therapy strategy that's right for your condition. Depending upon the sort of discomfort that you're managing, your physiotherapist can recommend treatments such as stretching workouts, massage therapy, warm and ice therapy, acupuncture as well as acupressure, TENS treatments, and extra. With the help of a physiotherapist, you can lastly put an end to your neck discomfort once and for all. Give Maximum Potential Physiotherapy a call today and find out how we can help you feel your best again.